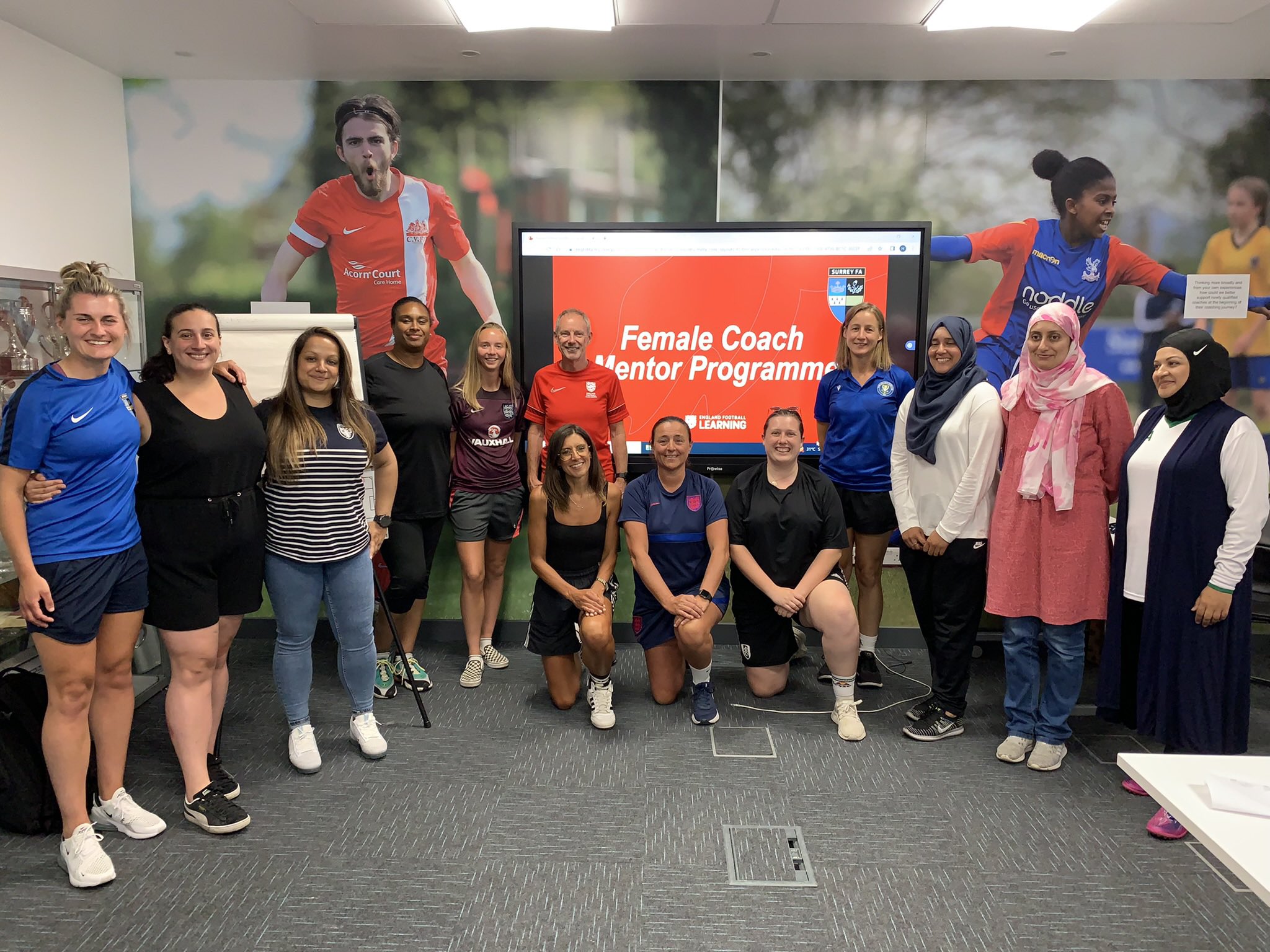 Female Coach Mentor Programme End of Season Event
Last Friday, Surrey FA held an end of season celebration event for coaches involved in our Female Coach Mentoring Programme
On Friday 17th June we were delighted to welcome coaches from the Surrey FA Female Coach Mentoring Programme to an end of season event at Meadowbank, alongside their mentors, to celebrate and recognise their achievements this season and for all involved in the programme to come together.
The evening was packed with content for our coaches to learn and engage with. The event started with a conversation about the importance of making connections, before heading out pitch-side for a practical CPD session focused on developing observational and noticing skills.
The coaches were allocated one or two players from Epsom & Ewell Colts Girls' team to engage with and observe, finding out what they were working on individually, and observing the players in practice using the four-corner model. Coaches were then asked at different points during the session to receive and give feedback to the players they were observing. The session showcased a range of practice designs, with additional practices available for coaches to reflect on and incorporate into their own sessions post-event.
Nicola Brown, who coaches the U11 Epsom and Ewell Colts Girls' team which took part in the practical CPD had the following to say: "Such a great event last night, thanks so much Kevin for all the thought and effort you put into it, we are so lucky to have you. As always, I took away some big learning points and now can't wait to get back on the grass! Lovely to meet those fellow mentees I hadn't met before! All so inspiring"
Sharon Muxworthy, FA Coach Development Officer, said after the event "I felt this evening's event was an excellent example of good practice and feel through our combined efforts, we have enabled our female coaches to feel they belong and are supported in their journey in whatever area this may be".
Helen Ogle, Football Development Officer at Surrey FA thanked the coaches for their continued support in the game. "It was fantastic to bring our coaches together and to see how passionate and committed they are to continuously develop, not just themselves, but also the pathway for other female coaches in and around the game. I'm excited to follow their coaching journeys going forward and supporting them in seasons to come!"
Are you a female coach who would benefit from receiving mentoring? Register your interest here!